Joseph M. Miskulin (born January 6, 1949) is a hall of fame accordionist and producer of Grammy Award-winning music albums. In a music career spanning more than four decades, Joey Miskulin has collaborated with a range of artists including Paul McCartney, U2, John Denver, Ricky Skaggs, Andy Williams, Ricky Van Shelton, Emmylou Harris, Frankie Yankovic and many others. He is a performer, studio musician, producer and pedagogue. As a child in Chicago, Miskulin displayed early signs of musical prodigy, spontaneously showing an interest in the accordion by the time he was four. Beginning music training a year later, Joey was performing professionally by age eleven with the Ronnie Lee Band, and had his first recording produced by Roman Possedi at age twelve. A year later, the boy would meet Frankie Yankovic, forming a personal and professional relationship with the man known as "America's Polka King" that would last a lifetime. Miskulin toured the United States with Yankovich as his featured accordionist for six years, writing and arranging songs between performances. In the 1990s he rejoined Riders In The Sky, and with them is billed as "Joey the Cowpolka King".
Joey's history as a musician goes back many years. At four years old, he made his love for music known when he picked up a 2-bass accordion and began playing simple melodies. Formal music training began when he was five. At ten, Joey was playing at picnics and social functions, and at eleven he joined the Ronnie Lee Band. The following year, he made his first record album with Chicago's Roman Possedi. Joey's thirteenth year was a milestone. He met and started traveling with "America's Polka King," Frank Yankovic, thus beginning an association that would last over 35 years. Yankovic, who had a contract with Columbia Records, took a chance and insisted that Joey be allowed to record with the band. "I think it was that first recording session with Frank that helped make up my mind. I wanted to make music my career." Between recording at Columbia Studios in Chicago and performing from coast to coast, Joey met some of the biggest names in the music world, all of whom encouraged the youngster to pursue his musical dream. When he was nineteen, Joey left the Yankovic band and toured with the Hawaii Internationale Revue, entertaining throughout Hong Kong, Japan, Thailand, Vietnam, Okinawa, and finally ending up in California. A call from Yankovic brought Joey back to the band where he recorded five albums for RCA Records. During this series of recordings, Joey came to Nashville, the town that was to eventually become his home. Throughout the 70s and early 80s, Joey diversified his career. His reputation as a studio musician and producer grew, and he recorded with celebrities such as Andy Williams, Doc Severenson and Charlie Daniels, as well as with many polka bands throughout the U.S., Canada and Europe. He co-hosted Sunday variety shows, a local TV show that aired weekly, and had his own show — Polka Time U.S.A. — which was the second-highest rated show on WCLQ while it aired. In 1985, Joey produced the first polka recording to garner a Grammy: "70 Years Of Hits" with Frank Yankovic. In 1987, Joey moved to Nashville. "I had recorded over 125 albums and had produced a Grammy-award winner, but I knew if I wanted to stay in the recording business, I would have to move to the largest concentration of recording studios in the world." That same year, Joey began recording with Riders In The Sky, and after becoming a regular on their NPR "Riders Radio Theater." He became a member of Riders In The Sky producing their multiple Grammy-award winning recordings and performing an average of 185 shows each year including the "Grand Ole Opry" as part of the Opry's favorite cast. In addition, he oversees other studio and production projects as a respected and sought-after member of the music industry community.

Rod has been playing music since the age of 7. At 13 he started a polka band playing for wedding dances and at various clubs in and around his home town of Crosby, MN. He also taught accordion, piano, and guitar lessons and had as many as 75 students in 3 cities. The band disbanded while Rod was in college at the University of Minnesota; but during that time, Rod played "piano bar / sing-a -long" on the weekends and 6 nights a week during the summer. Rod also hooked up with Tony Jambor of "Polka Jamboree" fame and began touring with the band throughout the upper Midwest. Rod and Tony purchased the Coliseum Ballroom in Minneapolis and continued with the band playing more than 200 dates per year. The Rod Cerar Orchestra was in constant demand throughout the ballroom circuit and was booked 18 to 24 months in advance. Rod then married and started playing with the Jimmy Sturm band trying to stay a little closer to home. Currently Rod plays solo shows and dances as well as leading the Rod Cerar Orchestra. They continue to perform in the Midwest for the ballroom circuit, hotels, Minnesota State Fair, University of Minnesota, clubs, senior living centers, corporate events, dance clubs, festivals, polka masses, private parties etc. They also are starring on the nationally broadcast television shows "POLKA SPOTLIGHT" and on the "MOLLY B POLKA PARTY." Rod plays a wide variety of music for dancing, including polkas and waltzes as well as big band, ballroom, and country music. In addition, while performing for shows/entertainment, Rod plays current pop music, show tunes, 50's and 60's, country, ethnic tunes, specialty numbers and much more. Rod has been nominated three times for the Minnesota Ballroom Operators Association " Band of the Year" and has won national awards from the Entertainment Operators of America five times. Over the years Rod has performed with Frank Yankovic, Myron Floren and many others. In addition he has entertained John Kennedy, Hubert Humphrey, Al Gore, Ronald Reagan to name a few. Rod and his wife, Judie, have 5 grown children and 5 grand children and have a home in Apple Valley, MN.

Over the years, Jeff Winard has remained a favorite with crowds throughout the Greater Milwaukee Area, Midwest, and other parts of the United States and Canada where polka music is enjoyed. Jeff and his band known for their polka and waltz music in the popular "Yankovic Style" have remained a favorite at festivals, parties and other events where live music is desired. In June 1968 Jeff fronted his first band playing at his parish church festival, followed by VFW picnics, and other performances.
The early 70's brought an association with Bill Savatski's Band, and dear friend for over 40 years Grant Kozera, (aka "Brewhaus Polka King). Jeff also began performing with Frank Yankovic "America's Polka King" in 1970 as an accordionist and drummer, and continued to perform with his own band as well. This association would last until Frank's retirement in 1998. During those 28 years, Jeff had the opportunity to travel extensively throughout the country performing countless engagements ranging from Las Vegas casinos to New York's State Fair.
In later years, Jeff would book Frank as a special guest to perform with his band, the last time being in June of 1998 in Milwaukee, just months before Franks passing on Oct. 14th, 1998. After Frank's passing, Jeff continued to perform many of the engagements that still wanted the Yankovic music for their events. The style greatly appeals to a broader market than some other polka styles and has a unique way of creating an excitement level with audiences, even those that may not be "polka fans" initially.
The Jeff Winard Band continues to be a favorite of young and old alike and has enjoyed much success over its many years of existence. The band has produced several recordings currently available on CD. Jeff Winard has twice been inducted into the Wis. Polka Music Hall of Fame. Once for his work with the late Frankie Yankovic, and also for his work with The Jeff Winard Band. One of the finest Polka Band's in Milwaukee, WI for over 40 years!!!
Richie Yurkovich & Polkarioty

Polkarioty - a polka / variety band featuring a blend of many styles of music. Be it a polka, waltz, country, rock, latin, or just about any other style of music, we play it with enthusiasm, energy and stage presence to bring you a mix of music and show.
Richie "The King" Yurkovich: Accordion, button box, vocals, midi effects. He has had his own band, for over 40 years, recorded 30 albums, owns his own recording studio, hosted many tours in the U.S. and abroad and has performed across the United States including more than 70 shows in Branson, MO. In 2001 he was inducted into the Ironworld Polka Hall of Fame. With his accordion, bass and midi effects, he gives the band the sound for which they are known.
Gabe "The Queen" Yurkovich. Drums, Vocals. Gabe (Gabrielle) has been a member of our band since the 1970's as either the full time drummer or filling in when needed. Her main instrument in high school was the saxophone and played that many times in the early years of the band. Her out-going personality, solid beat and pleasing vocals make her a crowd favorite whenever she performs. She has also released her own CD titled "Beatin' It Up". It features some of her favorite songs and is available on our orderform page.
Scott "Humble Servant" Benson: Guitar, drums, banjo, vocals. He has a versatile music background having played and recorded with several polka bands including Richie Yurkovich and also the Frankie Bucar and Ray Ahlgren bands from Minnesota. He is a member of the popular Marshfield, WI based group "Whoz Playing" and was a founding member of the local 50's-60's group, the "Atomic Tailfins". Scott also worked as a drummer-vocalist with Eau Claire based groups "Redwing" and country-rock act, "The Marshall` Star Band". He also did studio recording for the "Mike McIntyre Band"
Karl Wallin: Banjo, Guitar & Vocals. Karl has performed with a variety of bands, including country, 50's, rock, blue-grass and of course polka showcasing his talents as a musician and performer!!

The TOP NOTCHMEN BAND was honored as the BAND OF THE YEAR for 1999, 2001 and 2007 by the Minnesota Ballroom Operators Association as well as having received numerous other awards throughout the years. Their vibrant personalities keep their audiences returning whenever and wherever they perform.
This energetic and dynamic husband and wife team, Dave and Lois Melgaard, are well known and travel throughout the Midwest and beyond; performing in Las Vegas, Arizona, Seattle, Colorado, Florida and everywhere in between. They delight audiences with their appealing style and unique versatility which includes waltzes, polkas, foxtrots, country, Cajun as well as swing.

The Alaska Polka Chips
From Alaska's borders, from coast to coast and overseas, the Alaska Polka Chips have been entertaining with their style of music for every occasion. Marge Ford and her sister Patti are creative songwriters and musicians who love the very music they play and it shows. Every performance is filled with surprises and humor and the best dance music you will find. If you haven't discovered their brand of music, it is time you did.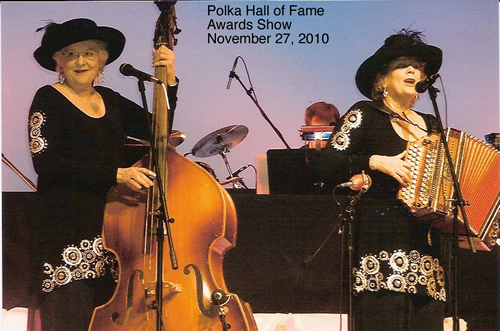 Patti and Marge
Cleveland, Ohio
Thanksgiving Weekend 2010

The Alaska Polka Chips perform regularly in Alaska, and have performed in the lower 48 states, from Las Vegas to Atlantic City, and from California to Florida, as well as internationally in Great Britain, Austria, Greece, Italy, the Caribbean and Australia. The Alaska Polka Chips play for all occasions and for over 30 years have played at the St. Patrick's Parish Hall for their Third Friday dances. The Alaska Polka Chips also play regularly at the Anchorage Senior Center and the Sons of Norway. In addition, they are in demand for private events and weddings.
Dale Dahmen and the Polka Beats

Dale Dahmen has been running his own band since before he was even able to drive to his performances. Dahmen began taking concertina lessons when he was 6. He said his parents were a big reason he took up the instrument, "My parents were big fans of polka music, but especially concertina," he said. When he was around 10 years old, Dahmen began playing in polka bands, filling in and playing a few songs. A couple years later, when another band wanted Dahmen to play with them, Dahmen's father, Ken Dahmen, suggested Dale start up his own instead. "I guess it was because of the entrepreneurial spirit of my folks, why play for someone else when you can start your own band," Dahmen said, about his parents Ken and Jan who owned Pierz' grocery store. Dahmen said his parents would drive him across the state and beyond to performances until he could start taking over. His dad would also handle booking his performances until Dahmen was 17. Around this time, Dahmen met his longtime guitarist and friend, Mark Hauck from Foley. This led to Hauck playing for the band for around 30 years before he retired from the band in 2013, when Dahmen's sons joined the band full-time. Despite being named Dale Dahmen and the Polka Beats, the band soon began adding other genres to their performances. Dahmen said even back then it was necessary to branch out from just the polkas to get jobs. So, Hauck taught Dahmen how to play the bass guitar and the group began adding old country music from performers like Hank Williams to their performances. "Old people liked hearing that stuff. It was what they heard when they were growing up on the farm," Dahmen said. In the 1990s, the band began moving into 50s rock and country. From 1994 to 1999, the Polka Beats became a prominent wedding band, Dahmen said. Music from the 80s and from country singers like Alan Jackson were the big thing during this time Dahmen said. The band was doing a wedding almost every Saturday night back then, he said.
Now the band has been split into two. Dahmen still performs with both, but Dale Dahmen and the Beats, which plays a wide variety of music consists of him and his sons Dominick,18, and Samuel, 17. For a time, Dahmen said, as polka's popularity went down, this band replaced Dale Dahmen and the Polka Beats so the band wasn't judged as a polka band. Now, the old band has seen a resurrection and Dahmen performs with them at polka festivals and Oktoberfests around the Upper Midwest.

Barefoot Becky & the Ivanhoe Dutchmen

Mix three cups of German-style polka music with one cup of Czech music, and a half-cup each of country, big band, and party favorites, and you've got a recipe for fun with a band that's really cookin'! That's what you get when you see a live performance featuring Barefoot Becky & the Ivanhoe Dutchmen, a group based out of Mt Vernon, Iowa.
The band, featuring Becky Livermore on accordion and vocals, has been performing throughout the United States since 1988. People remember the band best by two things: Becky's bare feet! She started playing barefoot simply because it was more comfortable than playing with shoes on.
People seemed to think it was pretty funny and have really come to expect it. Now the 'barefoot' motif is on almost everything they have, like their music stands, posters, and custom made mugs and t-shirts.
In addition to performing in ballrooms throughout the US, Barefoot Becky & the Ivanhoe Dutchmen perform in a wide range of venues including: house parties, nightclubs, in tents, for town festivals, RV conventions, and parades. In 1996, they performed for the Smithsonian Institution's Festival of American Folklife in Washington, D.C.
They have ten recordings available, with the latest on CD entitled 'The Early Years.' The group always has a supply of their recordings available at their performances. It's really easy to take a little piece of the band home with you, but you'll have to supply your own bare feet!
It all started when Becky's mom and dad took the family to polka dances in Swisher, IA. They would carry the kids around the dance floor until they were old enough to walk and learn to dance themselves. Becky loved to dance, but was always just as interested in the bands and would sit by the stage to watch and listen.
In 1980, when she was ten years old, Becky took her first accordion lesson from Esther Zvacek. She was an elderly lady who still only charged a dollar for a lesson. Becky was very close to her teacher. Both her and her mother would go over to Esther's house every Friday night for supper before having their lessons. Her mom even kept a garden there for Esther and Becky mowed her lawn.
Becky loved to play the accordion and would practice for hours each day. Sometimes she'd go outside to get away from her brother and sister's complaining. This had to have been where playing barefoot came from. Those kids rarely wore shoes around the farm. It just seemed second nature to go everywhere and do everything barefoot. Why should playing the accordion be any different?
They had a good friend that lived down the road who ran a polka band. When Becky started taking accordion lessons, she would always go over to his house and play for him and tell him she wanted to play in his band. He kept saying, "When you get good enough you can.". At the age of 12, she played her first job with Ed Ulch & The Jolly Bohemians from Solon, IA.
When Becky was 17, her teacher became ill, so she quit taking accordion lessons. She was still playing with the Jolly Bohemians, but there was something missing. She still wanted more! Jobs became fewer and fewer with Ed's band. His health wasn't allowing him to continue as he used to and retiring became a new subject for him. As soon as Becky heard this, she decided she'd like to have her own band. She told Ed to let her know when he was going to quit because she wanted to buy his library of music.
Well, he called sooner then she thought! In 1988, when she was still a senior in high school, Ed told her to come over to his house. When she got home that night, she had a library of music and a couple dance jobs lined up that Ed previously booked. This was great, but she had no vehicle, no sound system, and no players!
Luckily, Becky had gotten to know and become good friends with many musicians. All of them had played in Ed's band at one time or another. Ed let her use his sound system until she got her own, and her dad's boss was selling his van, so that became her transportation. Slowly but surely things came together and Barefoot Becky & the Ivanhoe Dutchmen have been playing ever since.
To most people this would be a strange dream, but to Becky it's a dream come true! Next on her list was to put on an annual polka fest. This became reality in 2003. The Beckster Fest happens every year the weekend after Memorial Day at the RV Park in Amana, IA. Come on down and have some fun! Check it out on the "Beckster Fest" page!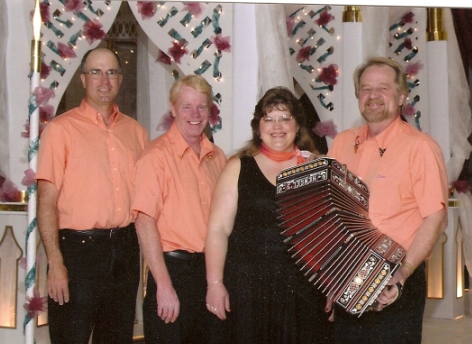 Leon Olsen has been a bandleader for over 50 years. While too young to realize it, a music teacher told him that music is a "Universal Language". Now, years later, he fully understands that statement and has used his musical talents to bring enjoyment to people across the U.S. Playing the Concertina has allowed him to teach over 100 students and receive numerous awards in prestigious musical associations. This past November he was inducted to the Minnesota Music Hall of Fame. New Ulm, Minnesota is his hometown where he and his wife, Anne, enjoy their family and many friends. When he is on the road he is able to see many people, have good times and he loves being on stage. The Leon Olsen Polka Band is comprised of three additional persons. Husband and wife duo, Red and Loretta, plus Tom play the instruments that round out the great genre of music the band plays.
The Singing Slovenes
Under the direction of Frank Bucar and assistant director Mary Spehar White, "The Singing Slovenes" were formed inthe multi-ethnic community of Gary-New Duluth in 1980. The mission of the Minnesota group is to preserve Slovenian music and cultural heritage. Slovenia is an alpine country nestled between Italy, Austria, Hungary, and Croatia. Though the name of the troupe is indicative of the Slovenian heritage, the group boasts a wide and varied number of nationalities. The "Singing Slovenes" represent countries far and wide; Slovenia, Croatia, Italy, Germany, Denmark, Poland, France, Norway, Finland, and Sweden. Sharing the joy of their musical heritage helps promote good fellowship and love of their neighbors through the use of their time and talents. These performances are educational as well as entertaining. Dressing in native costumes for performances at educational facilities gives the students the opportunity to experience other cultural attire. There are also geographical and language lessons that transpire during the course of the performance. The singers also appear at festivals, senior centers and nursing homes, as well as area churches with their musical ministries. Instrumental accompaniment for the troupe is provided with accordions, guitars, and drums. "The Singing Slovenes" promote fellowship through music and cultural education, sharing the Slovenian heritage and preserving it for current and future generations.
Eric & Patty Jaakkola
Daily Polka Hop Dance Lessons
In the Silver 777 Sevens Lounge
Dance instructor Eric Jaakkola was the first to teach the hop polka in the Minnesota Ballrooms. Intrigued by dancing as a boy, Eric kept his dream alive from his native Finland to Minnesota. Fascinated by dance contests he stepped onto the floor with his first individual lessons and his feet haven't stopped moving since. His fluid moves and smart turns offered him the chance to capture audiences on television, cruises, ballrooms and festivals. He has taught thousands of people, but more importantly to embrace the enjoyment of dance.
Jaakkola timeline
1967 - Won National Championship in Polka Dancing
1968 – Turned Pro
1968 – Started teaching Hop Polka at Gibbon Ballroom
1968 – Began teaching Ballroom and Latin dance: Fox Trot, Swing, Modern Waltz, Old Tyme Waltz, Tango, Cha Cha Cha, Rumba, Sumba, International Quick Step
1972 – Featured dancer on the Jolly Brothers' Polka Beat Show aired on KSTP
1973 – Expanded his teaching circle to include: Shleif's Little City;, Medina, Bel Rae, Majestic and Pine City Ballrooms and out of state venues
1976 – Co-founder of Polka club – Polk of A
1977 – Featured guest dancer on the Lawrence Welk TV show
1977 – Featured dancer on the Chmielewski Funtime TV show
1980 – Started Jaakkola Travel agency specializing in musical tours featuring the Chmielewski Funtime Band
2006 – Began "Finnish Talk and Variety Show" – creator and videographer of Finnish and other ethnic music and dancing. This half hour show is aired on 15 cable stations in Minnesota. Now available on the World Wide Web: www.tiny.cc/finntalk
Contest Honors and Awards
Lawrence Welk Trophy
National Championship in Polka Dancing
Eric was inducted to the International Polka Hall of Fame on June 19th, 2010 at the International Polka Festival at the Lost Isle Ballroom, Carlton, MN
What is Eric doing now?
Teaching ballroom dance and Hop Polka with his lovely wife, Patty
Producing instructional videos (VHS and DVD) on learning the Hop Polka,
Also known as the Polish Hop
Helmi Strahl Harrington, Ph.D.
Born: Germany, 1945
BM University of Houston, 1966
MM University of Houston, 1967
Honorary Title, Staedtische Musikschule, 1973
(Trossingen, Germany)
Ph.D. University of Texas, 1977
Lead Instructor, Accordion and Concertina Repair
Department, Red Wing Technical College,1991-93
Founder and Lead Instructor: Accordion-
Concertina Repair and Technician's
School, 1993 (Duluth, MN)
Founder: A World of Accordions Museum at
Harrington ARTS Center, 1999 (Superior, WI)
Accordion Concertina Music teacher and studio operator of Burnsville, MN, and Superior, WI Concert and Entertainment Performer on accordion-family-instruments, USA and European tours Performer and Presenter at major festivals throughout USA; twelve years at Ironworld Discovery Center USA during Chmielewski Polkafests.
Adjudicator at major national and international accordion competitions
Author of 85 music books and manuals; regular contributor of scholarly articles published in American Accordionists Assn. Newsletters and elsewhere
Frequently quoted and recognized as a world authority on accordion construction and repair Recipient of numerous national and international awards.
Helmi will demonstrate instrument repairs; performance techniques; play popular and virtuoso pieces on multiple accordion types, solo and with other featured musicians.
Favorite demo/lectures: Inside the Accordion; Memorization Techniques, Interpretation: and more!